5 Fast Ways To Organize Your Pantry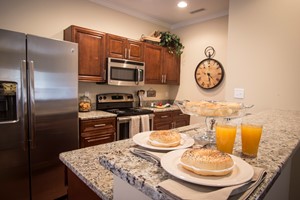 As the dog days of summer carry on, you may find yourself spending time indoors on hot days, cooling off with craft projects, good books or summer cleaning. Tidying up your pantry space is a simple and effective way of bringing order into one of the most used rooms in your home-your kitchen, and you can do it in under an hour and for less than $50!
If you struggle to find loose packets, your favorite cereal or that box of cookies you know you bought last week amidst the clutter or your overcrowded pantry space, there's hope on the horizon! Making simple changes to the way you store, group and organize your pantry can quickly transform your pantry into a fully functional storage space, and you don't have to spend a lot of money to do it!
Here are 5 fast and easy ways to organize your pantry space that will give you the storage you need, all year long!
Add Hooks
Hang aprons, dish towels, oven mitts and any other items from hooks inside your pantry door, and free up shelf, cabinet and drawer space. Hanging from hooks makes it easy to grab an oven mitt in a pinch, or gather dish towels to wipe up a spill at the last minute. Choose appropriate sizes and styles, and you can hang hooks to hold all of your stuff for less than $10!
Hang a Shower Organizer
We know this one sounds zany, but it's a perfect way to store produce without taking up counter space! Simply hang a shower caddy from a hook on the inside of your pantry or cabinet door, and place tomatoes, peppers, onions or avocados inside for convenient storage.
Use Flat, Stackable Containers
Rice, grains, nuts, trail mixes and other items can easily be stored in clear, flat, stackable containers, saving space on your shelves and making it easier to grab on the go. Stacking will help to free up space for other items that can't be stored as easily, and will help to keep your shelves clean and tidy in no time!
Keep Packets Together In Containers
Messy packets filled with seasonings, juice or lemonade mixes and baking ingredients can easily create a mess when not stored properly. They're also slim and can be difficult to grab on the go when they aren't stacked together for easy access. Choose a clear container or a small, labeled bin, and store all packets together in an upright position. You'll be able to grab from the bin anytime you like, and when a packet spills, you can quickly wipe up the bin instead of cleaning up an entire shelf of your pantry.
Clear Containers For the Win
Purchase simple, clear containers to store your cereal, crackers, cookies, dried oats and other dried goods for convenience and aesthetics. Clear containers make it easy to see exactly what you're looking for without having to rummage through cluttered boxes. As a bonus, they also help to prevent spillage from boxes and baggies that aren't properly secured, keeping your pantry organized and clean!