Summer Health Tips For Seniors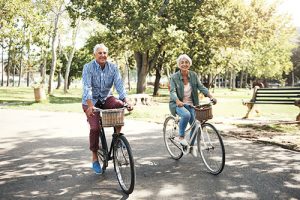 As summer approaches and temperatures begin to rise outside, it's important to make small changes to our lifestyle and routine to ensure we stay comfortable and healthy, all season long. After all, summer is a season that seems to call us outdoors more than usual, and we want to take advantage of longer, sunny days with our pets and loved ones.
High humidity and extreme heat can be harmful and even dangerous to your health if you don't take steps to precautionary measures to keep yourself cool, hydrated and comfortable. As we age, we lose the ability to conserve water in our bodies, making us more susceptible to dehydration and the dangers associated with it. This means making sure to drink cool water throughout the day, especially when heading outdoors for even small periods of time. It may be worth consulting with your doctor at the start of the season, and asking if there are any specific changes that you may need to make to your routine based on your own personal health concerns.
Summer is a wonderful time for enjoying Mother Nature with the ones we love! Take steps now to ensure your safety and health, and make this your best summer yet! As always, before making any changes to your routine, be sure to consult your physician.
Stay Hydrated
When the temperatures rise, it's more important than ever to up your water intake to beat back potential dehydration. Consult your doctor to find out precisely how much water you may need to drink per day in order to stay hydrated and cool, and aim to drink extra on days when you spend even small amounts of time outdoors.
Consult Your Doctor
Before the season goes into full swing, schedule a visit with your doctor and determine how to best support your overall health and wellbeing throughout the sweltering summer months. It may be important to talk about potential allergies, changes in medications, fluid intake and exercise habits, as well as any other concerns you may have.
Protect Your Skin
When heading outdoors, make sure to wear a protective hat and sunscreen. Aim to cover all exposed skin with a sunscreen you can trust that is both broad spectrum and at least 30 SPF. If you have sensitive skin, check ingredients on the back of the tube to make sure that you're using natural, safe products that won't irritate or harm your skin.
Protect Your Eyes
Keep sunglasses on at all times when outside during daylight hours, and avoid looking directly at the sun while outside walking, gardening or relaxing. Even if you're sitting in the shade, it's important to avoid exposing your eyes to direct sunlight to prevent damage to your vision.
Avoid the Extreme Heat
In extreme heat, be smart and stay out of the heat. Spending a few days indoors in the comfort and safety of air conditioning is worth not becoming overheated or even developing hyperthermia. When temperatures rise up into the 90s and humidity rages on, choose to head outdoors only when you must, and limit your time spent outdoors at all costs.
Apply Bug Spray
Mosquitoes, ticks and other pests love to come out in summer just as much as we do, and some of them can cause painful irritation and even carry harmful diseases. Spray yourself down with bug spray before heading out to walk your neighborhood or relax in nature, and keep the pests away as best you can!
Exercise Responsibly
While your daily walking habit is good for your health, it may need some adjusting once temperatures begin to rise. Consider moving your walk indoors to the treadmill, or plan to head out earlier in the day, before the temperatures rise to extremes. If you can't modify your schedule, consider switching up to swimming or indoor biking during summer months, to keep your body as cool and comfortable, as it is strong and healthy.