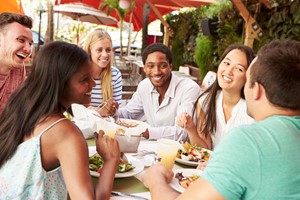 Summer is the season for spending time outdoors, exploring your neighborhood or relaxing in the shade with a cool drink and a good book. More activity and time spent outside can work up quite an appetite, and you may find yourself needing more protein and fresh fruits and vegetables to keep you satisfied.
When you need to create easy, delicious recipes in summer, you don't want to spend hours slaving over a hot stove. In fact, the more you give your stove a break in summer, the cooler your home will stay, and the lower you can keep your utility bills. Summer's bounty of fresh produce and seafood make it the best time for whipping up simple meals that showcase regional fare in its original form.
This summer, give yourself the gift of easy, summer meals throughout the week, so you can get back outside and soak up that beautiful summer sun, all season long!
Greek Salad
Bright, colorful and filled with your favorite salty and savory flavors, this greek salad recipe is a go-to for the summer. Add grilled chicken kebobs, roasted salmon or even grilled shrimp on top for extra protein when you need something extra hearty.
Shrimp Alfredo
On nights when you need a hearty meal to satisfy you, pick up fresh, local shrimp and whip up this easy and delicious shrimp alfredo recipe. Creamy, cheesey and so full of your favorite italian flavors, you'll want to plan to fill your plate a second time with this satisfying recipe you won't forget.
Turkey Lettuce Wraps
Lettuce wraps are the light, healthy and easy way to get your protein and veggies in during hot summer months, and these ground turkey lettuce wraps are a winner. Simply stock up on big, leafy lettuce (think romaine spears or butter lettuce), then stir fry ground turkey to fill them with.
Shrimp Cocktail Salad
Since we're located on the coast, we have access to the most fresh and delicious seafood around in summer. Take advantage this summer, and pick up big, juicy shrimp from your nearby grocer or seafood store to prepare this simple and light shrimp cocktail salad recipe.
Stuffed Peppers
Stuffed peppers are one of the easiest and fastest recipes to make just about any time of year, but we especially prefer them in summer when peppers are at their freshest and ripest. We recommend hitting up your nearest farm market to pick up a few red, yellow, orange or green peppers to start. Then, grab your ground beef and get to easy work with this simple recipe we love.
Grilled Chicken Tacos
Use boneless, skinless chicken thighs in this fast and easy chicken tacos recipe to save money and boost rich flavor! This recipe is perfect for just about any night of the week, and it will satisfy you without weighing you down. Pair it with a cool glass of limeade or a margarita for a delicious, light and flavorful summer dinner!
Nicoise Salad
This salad is as beautiful to look at as it is satisfying to eat. Packed with protein, flavor and texture, you'll find yourself turning to this salad for lunch, brunch and dinner, multiple times over the course of the summer months. A perfect meal for those who want to get in their greens, but need something hearty to keep them satisfied, you'll want to keep this recipe on file and close by on especially active days this summer.
Caprese Pizza Salad
While this recipe calls for a grill to cook the crust to perfection, you can also heat the crust in your oven for equally delicious results. Caprese salad lovers will be thrilled at this perfect combination of delicious, cheesey pizza and light, flavorful salad that is an excellent light dinner or hearty lunch for two.